Vegetarian friendly.
Easy for vegan. Challenging for gluten-free.
No insects.
There are no mosquitoes, no flies – nothing flies, nothing buzzes. Ants only if you leave food. 
All landscapes.
Ocean.
Mountain.
Dessert.
Canyons.
Architecture.
Chilling and relaxing.
This is not a party country.
Alcohol is rarely available. Hashish is everywhere.
Paradise for camper vans.
Easy for traveling for families with children.
Slowly developing for bicycles.
Must try:
Amlou
Peanut butter with Argan oil and Honey Amlou
You can also find almond version, mmmmmm.. amlouuuuu…
Tajin and Couscous
For tajin you must wait approx. 30min. Enjoy this time drinking Morrocan Mint Tea (remember to ask: without sugar!)
Must see:
Taghazout
A small and charming fishing village.
And if you are an advanced surfer, do not miss Anchor Point, where the 2020 World Surfers League just happened.
Skate Park Taghazout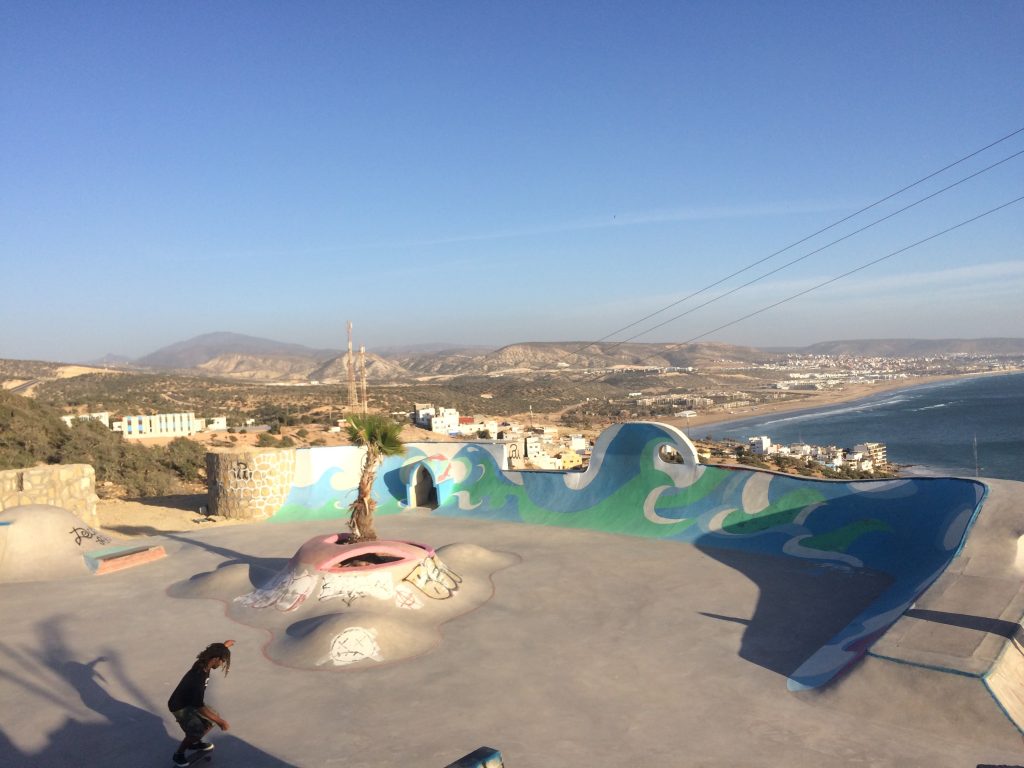 What a awesome setup! I've never seen such a cool place!
Check best pics! Felix in Skatepark
Paradise valley
A little African oasis with date palms and a natural pool at the bottom of the canyon, where you can jump from 10 meters or more
Imsuane
A bay surrounded by mountains with great waves, lighthouse and fresh fish BBQs
Essaouira
A charming town with a medina, where you can buy beautiful souvenirs from Africa
Atlas Mountain
I need books for describe its beauty. Just buy a ticket and check it self!
Thank You for best photos
Felix <3 felixbirkenseer
Aline <3 bizaline
Justyna <3 justyna.gmiterek
Thank You for hosting and feeding
Surf Coast Morocco surfcoastmorocco